I've never made a lasagna before but this seemed like a good use for the Italian Velvet pioppini mushrooms, and I thought the Trumpet royales would be a nice meaty addition. I found this recipe in Yotam Ottolenghi's Plenty, and he claims that it's the very best cheesy lasagna, and who am I to argue with Ottolenghi? This is definitely not a dish to make if you are watching your waistline, since it involves LOTS of butter and LOTS of different kinds of cheeses.  I usually prefer to cook the lighter middle eastern themed dishes, but I figured I should include at least one rich, decadent, creamy recipe with my mushrooms! Besides, this is a great dish to feed a crowd, which was great, since I invited 5 lovely ladies to enjoy the meal with me.
This dish is also pretty involved and requires lots of different components and long cooking times, so we enjoyed some wine and crostinis with butter and sauteed mushrooms while the food cooked.  Ottolenghi suggests using porcinis and assorted mixed mushrooms for this dish, but the Velvet pioppini and  Trumpet royale mushrooms worked great! First I preheated the oven to 350 F, then I cut and sauteed the Trumpet royale mushrooms in butter:
I used some of these for the appetizer crostinis, and the rest I saved for the lasagna.  Next I cut and sauteed the pioppini mushrooms in butter and added a few springs of thyme.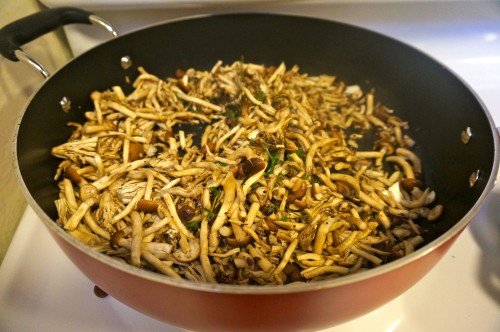 Once the mushrooms were cooked, I added 2 tbsp chopped tarragon and 4 tbsp chopped parsley, and set it aside for later. Don't the mushrooms look tasty with all of the bright green herbs?
Next I made the bechamel, which of course I had never made before.  It involves – you guessed it – lots of butter! After melting 5 tbsp of butter and adding a chopped shallot, which I cooked for a minute, then I had to add 0.5 cup flour and stir continuously for 2 minutes. This is the part where things got a bit tricky and I'm not quite sure I did everything right. You are supposed to add 2.5 cups of milk, 0.5 tsp salt, whisk until boiling, then simmer for 10 minutes. This seemed to reduce a lot and didn't make nearly as much bechamel as I thought I was supposed to have for this lasagna. Granted, we were supposed to add 6oz of Gruyere to the bechamel, which I did not do because one of my friends accidentally brought smoked Gouda instead of Gruyere and I thought the smoked Gouda would overwhelm the dish so I just left it out.  Perhaps that would have made a large difference in volume and I would have had a lot more ooey gooey lasagna. So this lasagna only had 4 types of cheese instead of 5! Oh well :) The bechamel is supposed to coat the bottom of the lasagna pan, and is supposed to top every layer of the lasagna, but we definitely did not have enough to top every layer. Here I am chopping the butter for the bechamel:
For the next layer of the lasagna, I mixed 13 oz of ricotta with an egg, 3 tbsp of the bechamel sauce, and 5 oz of feta.  For the noodles I substituted whole wheat lasagna for spinach lasagna, which I could not find anywhere. My friend Stella graciously boiled each lasagna noodle for a few minutes before I layered them into the lasagna. There seems to be a lot of room for flexibility when it comes to layering a lasagna. Clearly it depends on the size of the pan you use and the size of the noodles, so my lasagna only ended up having 3 layers of noodles and one layer of bechamel sauce to coat the bottom. After coating the bottom with the bechamel, then adding a layer of lasagna noodles, I then spread the ricotta/feta/egg mixture on top.
Next, I added the mushroom and herb mixture.
On top of the mushrooms we added shredded Mozarella: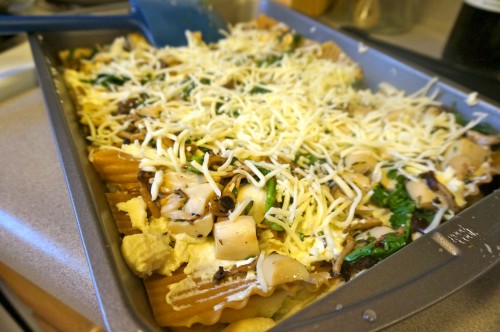 I made two such layers, then added another layer of noodles and topped with more mozzarella and some parmesan (told you this recipe involved lots of cheese!).  Then I covered the lasagna in foil, and baked it for 40 minutes at 350 F (thankfully I had preheated the oven!). After 40 minutes you are supposed to remove the foil and leave in for another 10 minutes. At this point the parmesan came out nice and golden:
After 40 minutes my friends were a bit antsy, and it was not very easy getting them to wait the required 10 minute resting period after the lasagna came out of the oven.  I fed them arugula and tomato salad while they waited for the lasagna, which was a nice pairing (thanks to Ottolenghi for the tip!). Here's all my friends eating the salad while they eagerly awaited the lasagna:
Needless to say, they were very excited once I finally let them cut into it:
The lasagna was very cheesy and rich: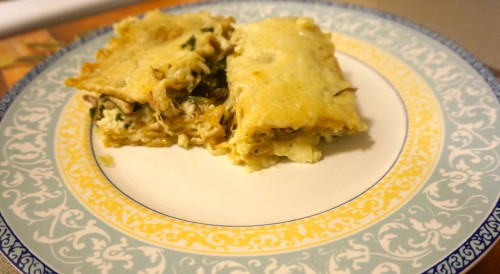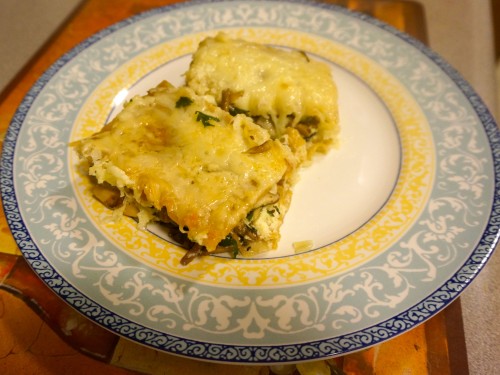 Overall, it was a very fun night filled with decadent cheesy mushroom lasagna, wine, and good friends. Here's to mushrooms and girlfriends – two things I could definitely never do without!