I know you've all been dying to hear about my visit to Jerusalem after reading about the first part of my trip to Israel in my last post.  So after I parted ways with Yohay and Tom on Friday, I got two days of fun and eating in Jerusalem with my cousin Geula! We first went to stay with her parents in Beit-El, where we spent shabbat. Shabbat was a great time to rest and rejuvenate after a busy trip.  While I unfortunately don't have any pictures of all of the delicious meals that we ate for shabbat dinner and shabbat lunch, I do have a picture of the home made challah that my cousin Batya made for shabbat. In Israel, they sometimes put za'atar on their challah.
After shabbat Geula and I returned to Jerusalem for more food and fun! We returned to the city pretty late at night on Saturday, so Geula took me to the arab shuk which turns into a really cool bar scene after dark.  Geula introduced me to a Yemenite pastry called jachnun, which is basically fried dough. Of course is was delicious!
We then went out in Jerusalem and hit up one of Geula's favorite spots, an American themed karaoke bar.  I am terrible at Karaoke but sang anyway, and Geula wowed everyone with her amazing voice and rendition of summertime.
For my last day, we woke up early so we could cram in as much sight-seeing and of course eating as possible. We visited the shuk during the day time to check out the store fronts. It was so awesome! I was in foodie heaven!
I couldn't get over how large the fruits and vegetables were at the market. They must have some seriously impressive agricultural practices in Israel. Have you ever seen squash this large?
Check out all these beautiful vegetables!
Here is where I bought the sumac, red and green zhug for 14 shekels ($4).
After I bought my spices, Geula brought me to Marzipan bakery, where they allegedly have the best rugelach in Jerusalem. Of course I had to buy some!
After shopping all morning in the shuk we returned to the old city in Jerusalem to go shopping. Here's me in front of the Jaffa gate outside of the old city.
Geula teaches belly dancing to women in Jerusalem. Here she is modeling a dancing cane in front of the belly dancing store where she shops.
After shopping we were hungry again and Geula took me to this amazing restaurant where her friend works as the sous chef on the outskirts of Jerusalem called Cafe Itamar. It was pretty far to get there but it was well worth it. First of all, it's in a super cute garden setting where you can even buy plants.
They even had cute ceramic mushrooms, which of course I loved!
Second of all, the food was AMAZING. Geula and I went all out and ordered two appetizers. Of course I had to order the mushroom casserole, which was topped in spinach and cheese, and a fried egg.
So you can see some of the mushrooms:
Then we ordered this cauliflower and hummus dip called masbacha, which was seriously so good.
We ate it with this bread: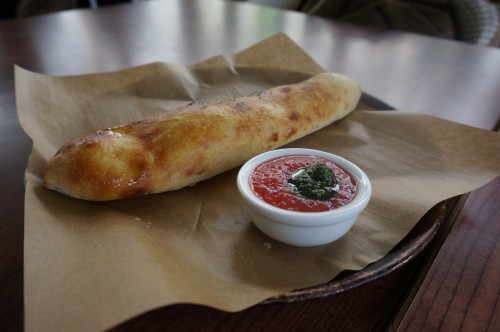 Then we shared the ravioli with roasted vegetables entree, which was so delicious.
Here is Geula smiling with the ravioli:
After that we were pretty stuffed but Geula's friend surprised us with an extra treat – this pasta with mushroom sauce and roasted asparagus dish.
Geula and I eyed the these chocolate cakes for dessert but ultimately decided we were too full. I think I kind of regret that decision now… we should have made room! After all, how often do I go to Israel? Next time, I will definitely be ordering the chocolate cake for dessert! While the restaurant is kind of out of the way, it was definitely worth the trip. The food was amazing and the setting was so cute. How cute is this restaurant?
We hitch-hiked back to town (this was my first time ever hitch hiking!) and then visited some of our other family members.  We met up with another cousin and had Yemenite soup for my last dinner in Jerusalem before I had to head home.
Especially after this super fun day touring in Jerusalem, I really did not quite feel ready to return to Berkeley after this amazing trip. At least now I have lots of fun plans and places to eat to look forward to next time I visit :)