I know you have all been waiting on pins and needles to find out what we made with the Oregonian chanterelles. Well now you finally get to find out! We made a quiche!
I know next to nothing about pastry, but turns out Roo spent 6 months training as a pastry chef while in college! He has so many skills hidden up his sleeve. I definitely could not have made this delicious recipe on my own, but thanks Roo for teaching me how to make the perfect pie crust. 

Apparently it is essential to own something called a pastry cutter if you are to be a pie crust aficionado. In absence of a pastry cutter, Roo says you can use two butter knives. The object is to mix up the flour with the butter so that the butter and flour incorporate while still saying separate. Sounds tricky, right? It is also imperative to use tools and not your hands so that the butter stays cold. Apparently the secret to a good pie crust is keeping the butter cold until it hits the oven, so there are lots of waiting steps where you let the dough "chill out" the in the freezer.
After incorporating the butter and flour, slowly add 4 Tbsp of water a tiny bit at a time until the dough hits the consistency of corn meal.
Once the dough hits the right texture, knead it and roll it into a ball. Then stick it in the freezer to chill some more. Pastry dough can be made in advance and frozen for weeks this way.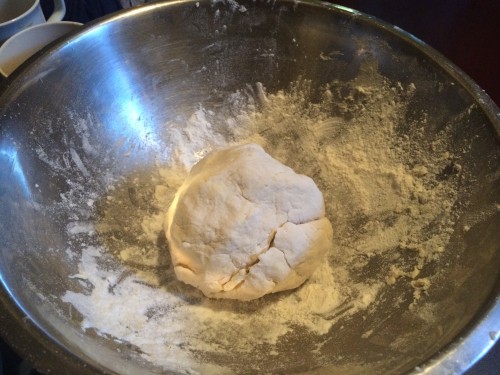 While the dough chilled in the freezer, we took the opportunity to hit up the local coop and buy eggs and onions for the filling. Once we got back we started to roll out the dough. Roo couldn't find his rolling pin, so we got creative with our tools.
Make sure to clean off the counter top really well and spread out some flour before rolling out the dough. Once it's rolled out evenly, gently place it in the pie pan.
Cut off the edges with a butter knife and make fun pastry treats with them :)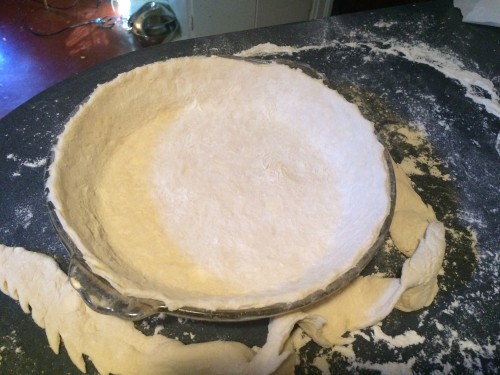 Roo says it's important to put parchment paper over the dough and weigh it down with something like dry beans to prevent air bubbles from forming. Then stick the dough in the freezer while you cook the insides of the quiche!
We started off our quiche filling by chopping up an onion and letting it caramelize in butter. Then we added 6 garlic cloves. So much flavor!
While the onions cooked I cleaned and cut up the chanterelles. God they were gorgeous!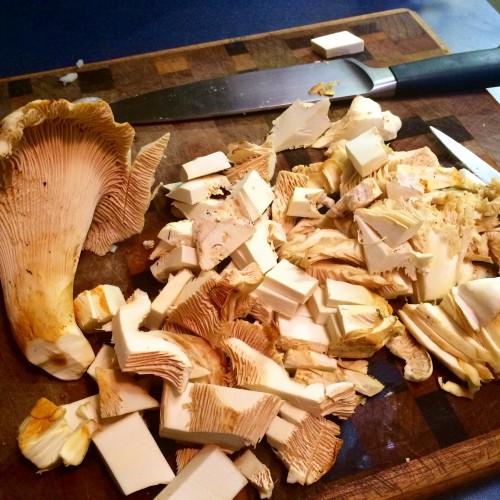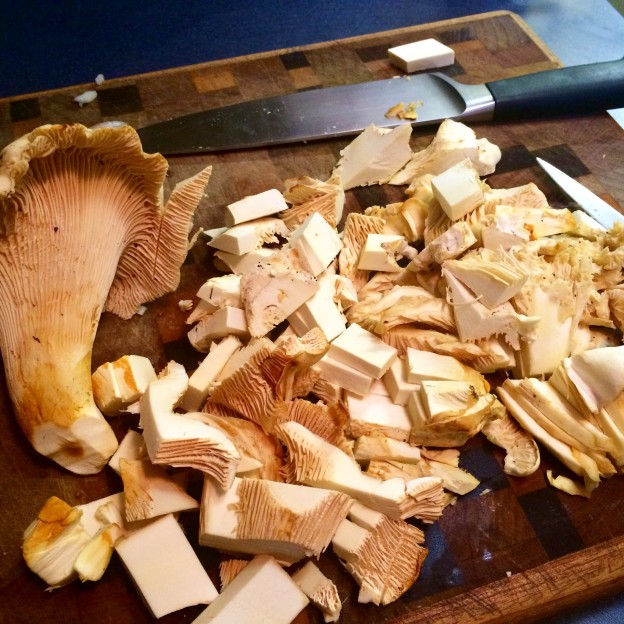 This wasn't going to be some frou frou wild mushroom quiche that you get at a restaurant that has 2 little pieces of mushrooms that you have to search out. No, this quiche will feature loads of meaty mushrooms!
We added the mushrooms to the onions and garlic and let them get nice and brown. Once they got a bit brown, we added some salt and pepper.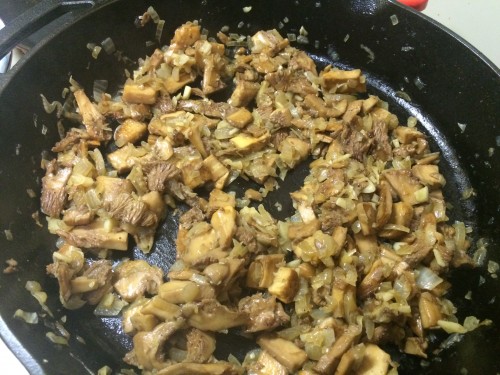 This next part was a real treat for me – we cut 3 kinds of kale straight from the garden! I live in a bit of a concrete jungle so this was quite a novelty for me to have freshly cut greens.
How beautiful is this kale?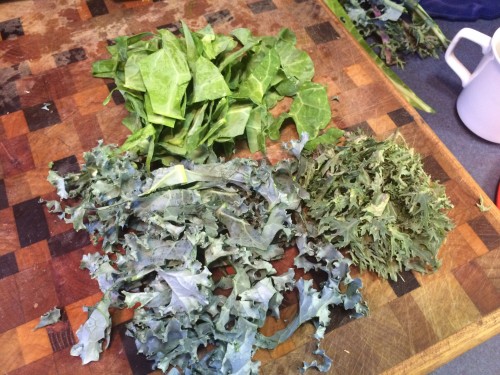 Once we had cleaned and chopped the kale we braised it in olive oil for a few minutes.
Now we were finally ready to start putting together the quiche!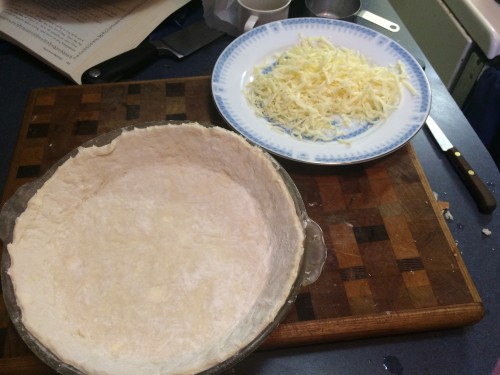 Roo says it is important to line the bottom of the crust with cheese to keep the crust crusty when the quiche cooks. He dropped so many nuggets of pastry knowledge!
After cheese we layered in the garlic, caramelized onions, and chanterelles. This quiche is nice and shroomy so skimping out on mushrooms here!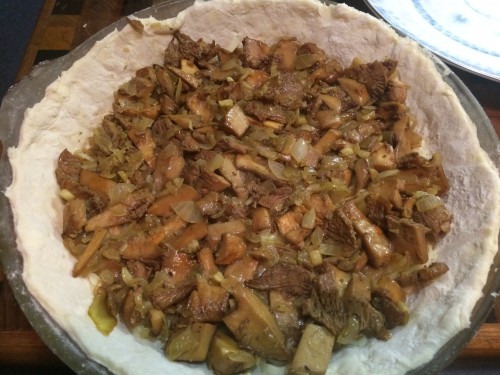 Next, add the kale on top of the mushrooms.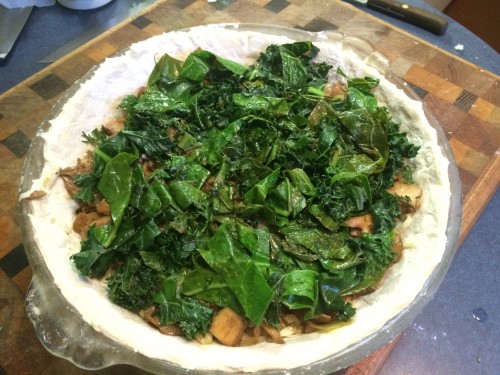 At this point, we whisked 1 cup whole milk with 3 eggs and poured it on top of the mixture.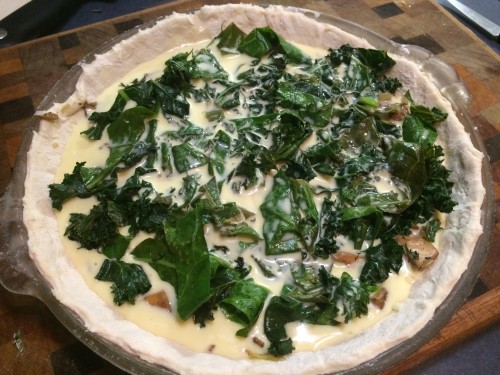 Then bake at 375 degrees F for 45 minutes.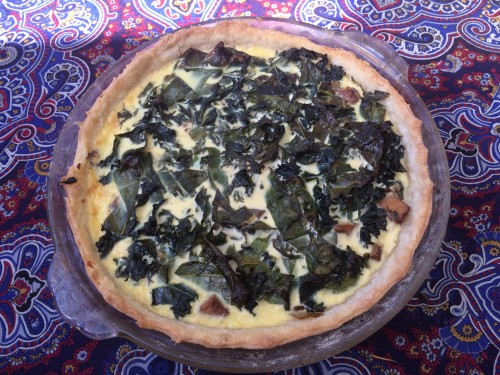 Cutting into it you can see the thick mushroom layer! Roo says it was his best crust he's made it years! There you go, now you can make bakery quality pie crusts from now on :)

Ingredients:
Pie crust:
6 Tbsp cold butter, cut into small pieces
1.5 cups flours
~ 4 Tbsp water
extra flour for rolling the dough
Filling:
1 large onion
3-6 cloves garlic
mushrooms
kale
jack cheese
3 eggs
1 cup milk