I know you've all been anxious to hear about the meals that I made with my mushrooms from Gourmet Mushrooms, Inc  :P No fear, here is the first installation :)  For this meal I looked to my main man Yotam Ottolenghi for inspiration and found an awesome recipe in Plenty featuring the brown clamshell mushroom. I was so inspired that I decided to make 2 other dishes to accompany it. Admittedly, this meal was a bit ambitious. It took 3 hours + to make all this stuff. There were many extended periods of roasting things in the oven and letting things marinade, so plan accordingly. The butternut squash and tahini dip is just an amazing mezze (AKA a middle eastern small plate or appetizer) that goes well as a spread for pita or carrots on any occasion. It's really just an unexpected and spectacular dish that is sure to be a crowd pleaser. It is also relatively simple to make and makes a huge batch that presumably could be frozen or used as an appetizer at a large party. The chermoula eggplant with bulgur and yogurt is a bit of an involved recipe, but it went really well with the marinated mushrooms with tahini and walnuts dish, which was fortunately super easy to make.
The first dish I made on Saturday, was the Butternut squash and tahini dip from Jerusalem because the butternut squash needs to be roasted in the oven for over an hour. This happens to be the first dish that I made from Jerusalem back in December, and is the dish that inspired me to buy the book! This dip is seriously the bomb. Also, I was really excited to finally get an excuse to use the date syrup that I bought in Israel at the duty free store with my last shekels right before I hopped on the plane back to the US :)
This to-die-for dip is actually pretty simple to make. Basically, you peel and chop up a huge butternut squash, cover it in 3 tbsp olive oil and 1 tsp cinnamon and 0.5 tsp salt, then roast it in the oven at 400 F for a really long time until it gets soft (70-80 min). Once it's soft, add 0.5 cup Greek yogurt, 5 tbsp tahini, and 2 garlic cloves, crushed. Then the hard part is finding a tool to blend it with. I don't have a food processor, but fortunately my hand held immersion blender worked really well for this. I seriously recommend buying an immersion blender. They are super useful and versatile!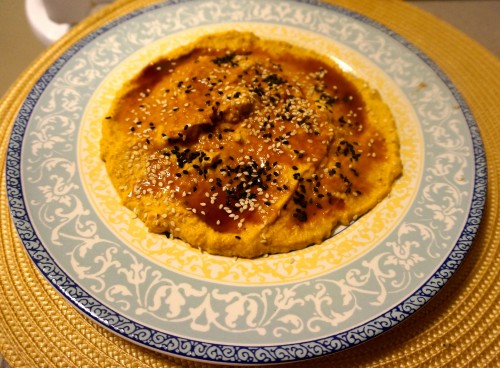 This dip is so good and really unexpected. You expect hummus and then get this sweet butternut squash concoction.  What really sets this dish apart and raises it to the next level is the addition of date syrup. It's really not optional here; the dish simply isn't as good without it! So find yourself a middle eastern market or fly to Israel, but get yourself some decadent date syrup to add to this dish :) Then sprinkle with white and black sesame seeds for the finishing touches. It's really good with pita and carrots, and this week I will learn how it tastes as an accompaniment to matzah :)
The second dish I made was the Chermoula eggplant with bulgur and yogurt from Yotam Ottolenghi's Jerusalem. Luckily, my oven was already pre-heated to 400 F from the butternut squash, so I just added the eggplant to the oven with the squash for efficiency. Before sticking them in the oven, cut the eggplants in half and cut deep criss crosses into them with a knife:
Next, make the chermoula by mixing together 2 crushed cloves of garlic (if you don't have one, go out and buy yourself a garlic press, they are great!), 2 tsp cumin, 2 tsp coriander, 1 tsp chilli flakes, 1 tsp paprika, approximately half a cup of olive oil, 0.5 tsp salt and 2 tbsp of finely chopped preserved lemon peel.  So the lemon peel for me was too much of a hassle to make (it involves canning and storing the peel for over a week), and I just could not find it in any store, so I just added some lemon zest to the chermoula. Then you have to carefully spoon the chermoula over the scored eggplant halves:
Next, leave the eggplant in the oven for a long time. It took way more than 40 minutes to get the eggplant to the desired soft texture for me. I think it's best when it's fully cooked through and mushy and the color changes from white to a greenish wet looking hue. For me this took closer to 50-60 minutes. My advice is to keep checking on it and better to leave it longer than risk eating undercooked eggplant, which is really not great.
While the eggplant is cooking, add 2/3 cup of boiling water to 1 cup of bulgur and soak 1/3 cup golden raisins in warm water for 10 minutes.  Next add herbs (I didn't happen to have cilantro and some of my friends hate it so I just stuck to mint for this one), 1/3 cup halved pitted green olives, 1/3 cup slivered almonds (thank you, Berkeley bowl bulk aisle!), 3 chopped spring onions, 1.5 tbsp fresh squeezed lemon juice, and a pinch of salt to the bulgur and raisins.
When the eggplant is fully cooked it will look something like this: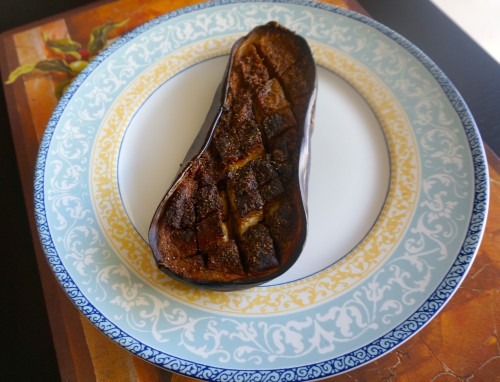 Add a scoop of the yummy bulgur mixture: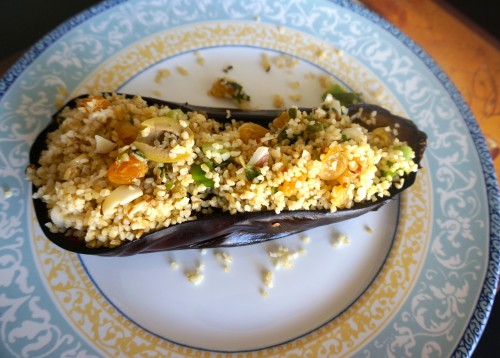 For the final touch, add a dollop of Greek yogurt and some sprigs of mint (I just got a potted mint plant and I'm so excited about it!). Isn't that beautiful? It also served as a beautiful complement to the marinated mushrooms, which I'm sure you've all been patiently waiting to read about :)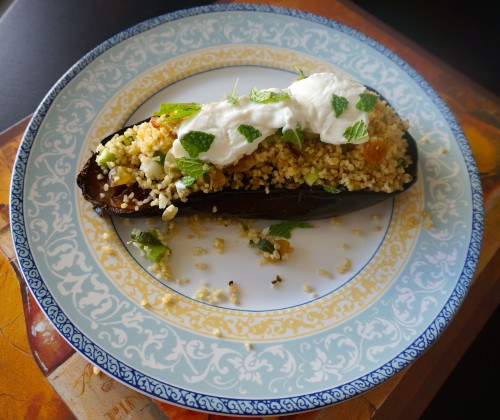 I found this recipe for Marinated mushrooms with walnut and tahini yogurt while perusing Yotam Ottolenghi's Plenty and Jerusalem for recipe ideas for my mushrooms.  This sounded like a great use for my brown clamshell AKA shimeji mushrooms.  For this one you also have to do some advanced preparations, which unfortunately I did not realize until the last minute.  You need to mix up the marinade and pour it over the mushrooms and let them marinade for up to an hour before serving. Since I did not realize this at first, I only let them sit for 30 minutes before eating them for dinner because it was already so late. Luckily, they had tons of time to marinate over night and were way better the next day when I brought the majority of the mushrooms to a lab pot luck party :) The marinade consists of 1/3 cup olive oil, 1 tbsp white wine vinegar, 1 tbsp maple syrup  (I always only use pure maple syrup – I lived on a farm for 4 months in high school and we made maple syrup ourselves from maple trees and now I could never go back to the fake stuff!), juice of one lemon, and 0.5 tsp salt. After the mushrooms have marinated, add 3 cups of fava beans and 2/3 cup walnuts.  I've found fava beans super hard to find, so I just used the canned version. I also did not bother removing the skins, because really, who has time for that? Besides, all the nutrients are in the skins anyway :)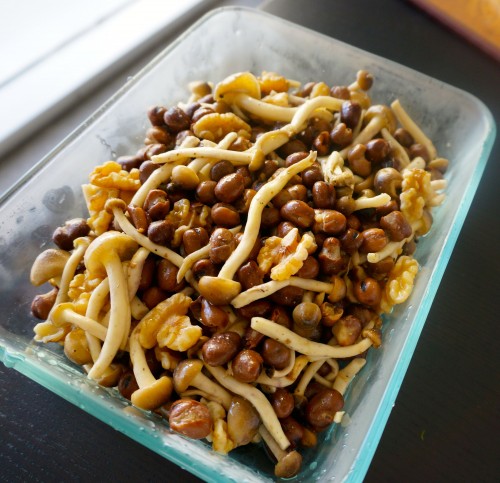 To complete the dish, whisk together 0.5 cup Greek yogurt with 2.5 tbsp tahini, 1 small garlic clove, juice of another lemon, and some salt. Then add a dollop of that to the mushrooms and sprinkle with dill and oregano. This dish goes really well with the chermoula eggplant dish. They complement each other very nicely :)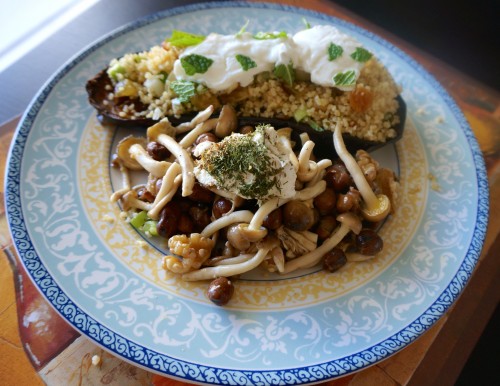 I cooked this huge feast on Saturday evening, and then I invited over my friend Meera to enjoy the dishes on Sunday early afternoon before I brought the rest of the mushrooms to the lab potluck party. Meera is the one who inspired me to get Jerusalem in the first place, and I love inviting her over because she always very enthusiastically enjoys all of my dishes :)  So thanks, Meera, for inspiring me to buy Yotam Ottolenghi's books in the first place, and for enthusiastically taste testing all three of my mushroom themed feasts this week!