Maitake frondosa, known to some as 'hen of the woods' is a saprotropic fungus that makes a living by eating decaying wood.   While that may not sound incredibly appetizing, this ecology makes them fairly easy to cultivate and to produce reliably for consumption. This is lucky for me since they are not native to California and I can't easily forage for them!  Since they are not native California mushrooms, I had never cooked these beautiful and intriguing mushrooms before, and I did not quite know what to do with them. Luckily, Justin Reyes from Gourmet Mushrooms, Inc suggested a delicious marinade inspired by this youtube video from chef Louisa Safia of LucidFood, which turned out to be quite the crowd pleaser. It was so popular in fact, that my friends Meera and Judy asked me for the recipe immediately after the dinner, and Meera went home and tried it out the next day!
The first step is to make the marinade the night before you want to cook the mushrooms and let them soak it up overnight in the fridge.  Unfortunately, I only realized this last minute and found myself mixing up the marinade at midnight the evening before I cooked these mushrooms, but hopefully you can be smarter and plan ahead – trust me, this marinade is worth it!
Here are the ingredients for the marinade:
1 cup olive oil
1/2 cup soy sauce
2 scallions, green and white parts
3 cloves garlic, crushed and peeled
2 Tbsp honey
2 Tbsp white wine
Salt and fresh ground pepper
3 lbs Maitake Frondosa
Blend the olive oil, whole pieces of scallion whites, whole garlic cloves, honey, 2 Tbsp wine, salt and fresh ground black pepper in blender. My handy dandy immersion blender worked great for this :) Then you either need to find a giant zip lock bag or a bowl and pour the sauce over the mushrooms and let them soak it up in the fridge over night. Save half a cup of the marinade for the reduction sauce the next day. While this recipe suggest barbecuing the mushrooms or using a cast iron skillet, I unfortunately had neither so I just used a big pan to saute them up. Don't worry -they still tasted great! Just make sure to leave them alone and let them cook for a really long time until they start to get brown and crispy. While they are cooking, you can make the reduction sauce by adding 3 Tbsp of white wine to the reserved 1/2 cup of marinade and reducing it to a simmer after you've brought it to a boil. When the mushrooms are nice and crispy you can spread the reduction sauce on them and it tastes so good!
I decided that this meaty mushroom  would make a great accompaniment to the vegetarian mee goreng from Plenty, which I featured in this post.  Mee goreng is a Malaysian street food that is super healthy and super simple, and takes only a few minutes to stir fry up after all the vegetables have been chopped and prepared.
Ottolenghi suggests serving the mee goreng with shredded lettuce, fried shallots, lemon wedges, and a Malaysian spicy chili sauce called sambal oelek. Fortunately I was able to find sambal oelek  at Berkeley bowl, but it looks like it is super easy to buy online!
Here is my plate all loaded up with mee goreng: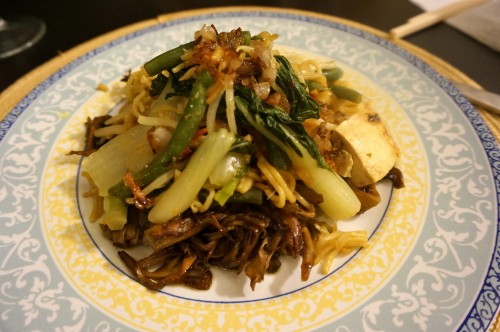 Here is the mee goreng served as suggested with the shredded lettuce, lemon wedges, fried shallots, and sambal oelek on top: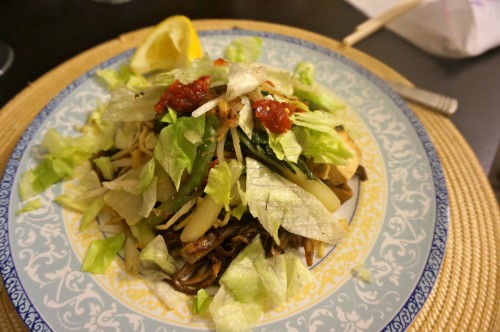 It went really well with the maitake mushrooms and my friends Judy and Meera gratefully gobbled it up. They were both super fun to cook for and claimed that these dishes induced euphoria and it was hands down one of the best meals they'd eaten that year.  This meal was probably the easiest and simplest of my three Gourmet Mushrooms Inc. feasts. It was also probably the most delectable! Don't you just love when that happens?